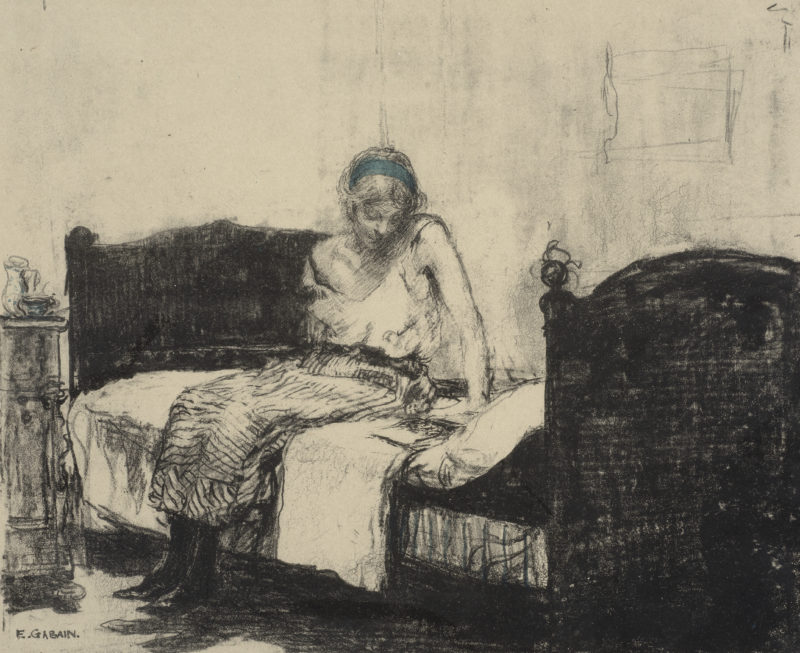 Ethel Gabain was a printmaker and painter, and an Official War Artist in the Second World War. She made over 300 lithographs, the first published in 1906, and about 25 etchings. In about 1925 she took up painting and exhibited regularly in the Summer Exhibition at the Royal Academy of Arts.
Born in Le Havre in 1883, Ethel Gabain's father was French and her mother Scottish. She grew up in France but was sent to board at Wycombe Abbey school in England from the age of fourteen. She later entered Collins Studio, Paris, and trained in London at the Slade School of Fine Art and at Central School of Art and Crafts, where she learned lithography. She sought the best technical advice both from other artists and printers, in London and Paris.

Lithographs by Ethel Gabain were shown at the Walker Art Gallery, Liverpool in 1906 and at the Salon des Artistes Francais in Paris. She was invited to be a founder member of the Senefelder Club, named after the inventor of lithography, set up in London in 1909 to promote the medium among artists and collectors.
That year she was living and working in the 14th Arrondissement in Paris, at 17 rue Boissonade. She showed six works in the Senefelder Club's first exhibition held in 1910 and took a studio in Paris again in early 1911. Later that year she went to Italy, spending six weeks around Florence and returned to England via Switzerland. Her next London studio was at 5 Haarlem Mansions, Brook Green.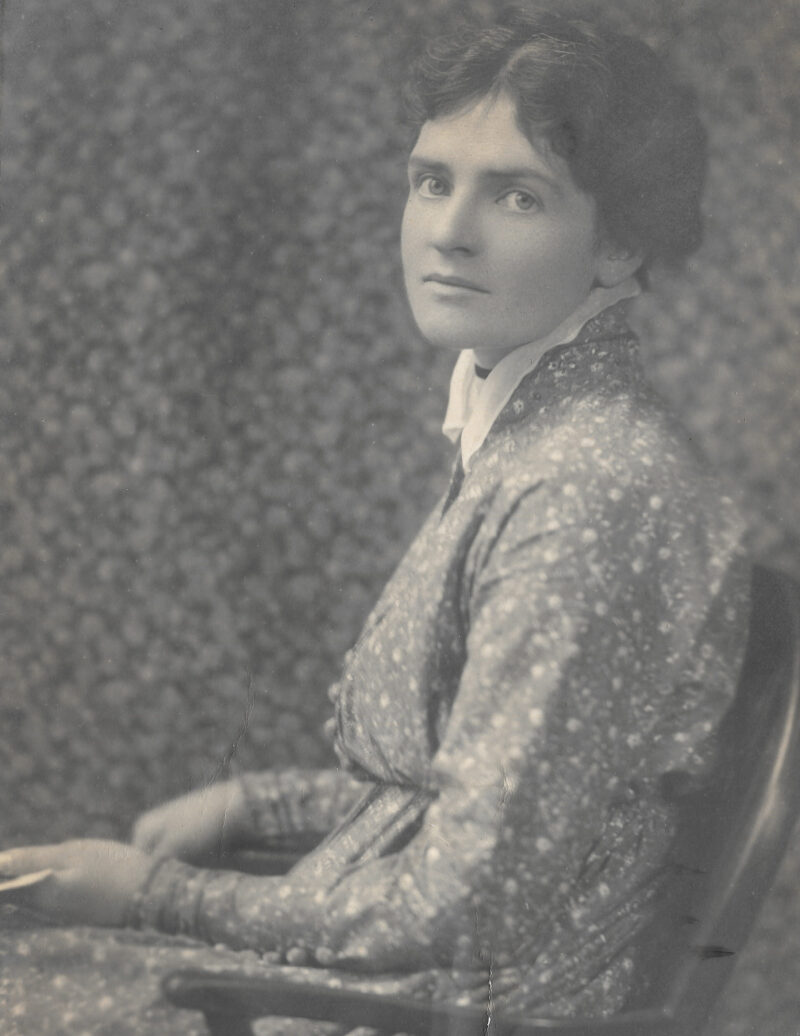 In only five years she had made 100 lithographs and one of these, The Striped Petticoat (1911), attracted the attention of Harold Wright, director of the print department at P. & D. Colnaghi & Co. He suggested that his gallery should publish her work: Colnaghi was then one of the most important print publishers in the world. The gallery mounted a series of exhibitions of her work, with her husband, whose work they also published. In 1913 she had married John Copley, also an artist, a lithographer and a fellow member of the Senefelder Club.
Ethel Gabain's prints were regularly selected for illustration in the publication Fine Prints of the Year. She had shows at the Goupil Gallery in 1914, at Colnaghi in 1920 and 1929, in Glasgow in 1915 and in Chicago in 1921, 1922 and 1924. The Lithographs of Ethel Gabain by Harold J.L. Wright, an illustrated essay and chronological list, was published in The Print Collector's Quarterly in October 1923.
Her lithographs were shown around the world, in Paris, Florence, Stockholm, The Hague, Brooklyn, Los Angeles, Toronto, Zurich and many other places. She had 52 works hung at the Royal Academy of Arts between 1908 and 1949, and 26 at various Paris Salons from 1907 to 1932. She was elected a member of the Royal Society of British Artists in 1932 and of the Royal Institute of Oil Painters the following year. In 1934 she was elected Vice President of the Society of Women Artists, and President in 1940.
Her early prints show great technical ability, the compositions describing three-dimensional space convincingly. In most of these settings, the subject is a young woman, and she explored her central theme of femininity. She conveys emotion, sometimes sadness, melancholy or loneliness. In other prints her subjects are bold, expressive, confident.
From the outset she combines subtlety of expression and draughtsmanship of extraordinary skill, as in Portrait of a Little Girl (The Black Hat) of 1908 and Laveuse de Vaisselle (Coin de l'Atelier) (1909). The young girl's self-assurance and the woman's domestic chores are conveyed with equal sympathy. In Le Lever de l'Ouvriere and Avant le Bain, both from 1912, the young women in their daily routine seem to be lost in contemplation.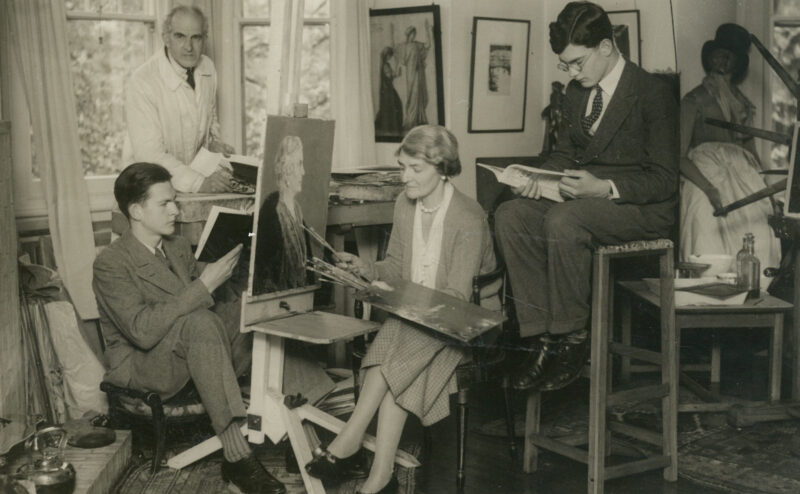 In 1914, the year after her marriage, she made a succession of great prints, including two portraits of John Copley, one at the printing press, the other in profile. In addition The Striped Chair, Stripes and Black and Profil Fin are highly inventive. Although the feelings of the bride in The Wedding Morn, seen from behind, are not obvious, a sense of mystery is evident.
The wistfulness to be found in some of her earlier subjects gives way to a greater range of emotion. In 1915 her son Peter was born but her production continued, with the tender Berceuse, the lighthearted A Lady and her Knitting and Au Clair de la Lune, the first in a series of lithographs inspired by Pierrot and Colombine.
By this time the family had moved from their first home Yews, Longfield, Kent, to 10 Hampstead Square, London, where she lived the rest of her life. Motherhood and her husband's intermittently poor health most likely kept her at home and sometimes interrupted her work. The rooms and furniture at Hampstead Square are recognisable in many works from this period, and she often used her sisters as models. In 1919 and 1920 her husband's chronic heart condition recurred, and the following summer, while he convalesced at Wye in Kent, she drew landscapes there. In 1922 she was commissioned by Edmond Paix, a collector and bibliophile, to make 22 lithographs illustrating Jane Eyre. The project occupied most of the year and was published in an edition of 495 copies by Leon Pichon in Paris.
In 1923 she made a simple study of her younger son, Christopher, asleep. Other subjects include The Draught-Players, A Summer Room and a series of outdoor figure studies. John Copley's heart condition deteriorated again, and in 1925 his doctors prescribed a warmer climate. Undaunted, Ethel packed for an indefinite move, and they sailed to Italy and took a villa in Alassio in Liguria. Her sons were then aged 10 and 7, and the family stayed for two years.
Her husband's health improved, while she gave drawing lessons to the English community there. She made etchings as well as lithographs on transfer paper and, about this time, took up painting. Once they returned to Hampstead, painting became more a part of her practice. Zinnias was shown at the RA in 1927, and she painted several other flower pieces in the next few years.
Ethel Gabain made 300 lithographs between 1906 and 1930. Her dedication to her chosen medium and her success as an artist working exclusively in lithography was unique to her and her husband. No other artists of their period made so large an oeuvre in lithography. In a period when etching was by far the most fashionable and lucrative medium for printmakers, their careers were singular.
Following the Wall Street Crash in 1929, the market for contemporary prints soon collapsed. Ethel Gabain's new interest in painting was thus timely, and she applied herself with characteristic energy and originality. She received portrait commissions, but her discovery of a young model, Carmen Watson, was decisive in her work. Carmen sat for Ethel over 50 times, and John Copley used her as a model too.
She also painted many of the leading actresses of her time, including Flora Robson, Edith Evans, Peggy Ashcroft, Greer Garson, Diana Wynyard, Isobel Scaife, Pamela Brown (who married Peter Copley) and the producer and manager Lilian Baylis.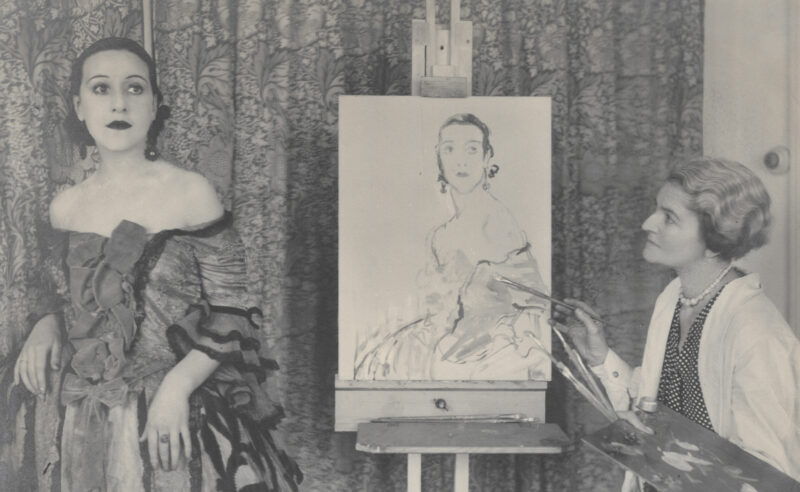 In the mid-1930s, when their financial position was dire, Ethel Gabain had the idea of touring girls' schools, giving lectures on the art history of whichever country was the subject of the current RA winter exhibition. Her husband wrote the lectures and she learnt them by heart, and armed with slides then delivered them with theatrical panache. They proved to be popular and she was soon booked months in advance.
Although her husband's health was restored after their time in Italy, Ethel Gabain contracted a kidney disease and began to suffer from arthritis. She had major operations in 1938, 1941 and 1943, and had a kidney removed.
In March 1940 her younger son Christopher died: he had been a medical student. Despite her own poor health, in her grief, she contacted the Ministry of Information and offered her services. She was invited in April 1940 to work for the War Artists Advisory Committee, in a letter from the secretary, E.M. O'Rourke Dickey, and was appointed an Official War Artist. Her ability as a printmaker and her commitment to female subjects were the ideal qualifications for the subjects she was assigned.
She adopted a documentary style appropriate to the purpose of her projects, the first being Children in Wartime, five lithographs published in 1940. The title of one, The Evacuation of Children from Southend, Sunday 2nd June 1940, shows the speed with which she chose and completed the subjects, and of their publication. Women's Work in the War (Other than the Services) followed later that year, a series of six lithographs. The subjects were Sandbag Workers, Salvage Workers, Sorting and Flinging Logs, Working on a Weir Pump, Building a Beaufort Fighter and Captain Pauline Gower of the Women's Air Transport Auxiliary.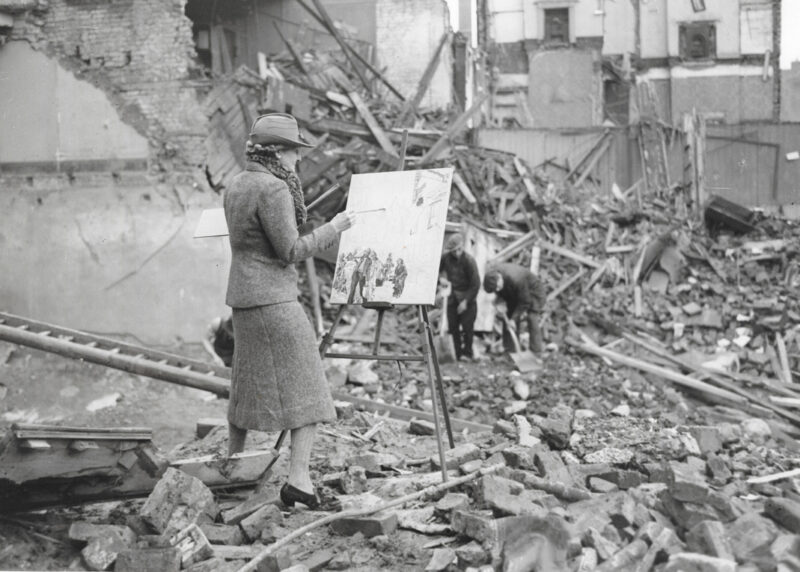 These, and other unpublished lithographs, had required her to travel the length and breadth of the country. Given her poor health and the difficulties of wartime travel, she showed great dedication and determination. Besides factories, shipyards, canteens and airfields, she went to lumber camps in Banffshire and the Cairngorms to fulfil her commissions. She also made a series of technically demanding paintings and lithographs of women operating machinery at the Williams & Williams Reliance Works in Chester.
Paper of any quality soon became scarce and was classed as a luxury item by the Government, and so Ethel Gabain produced paintings instead of further lithographs. Many of these were subjects she chose, seeking to produce significant records of wartime activities. These included a portrait of Sir Alexander Fleming at work and medical equipment in operation in hospitals. A press photograph shows her at an easel painting, perched on the debris following an air raid on Stepney, watched by two schoolboys.
Ethel Gabain did not allow the second kidney operation in 1943 to interrupt her work which continued throughout the rest of the Second World War. A number of these works are in the collection of the Imperial War Museum and the Grosvenor Museum, Chester. After the war, she resumed her figure painting and works shown at the RA include The Yellow Gloves and Hilda Pearson testing Gyro Compass at Ferranti's (1946), Pam Reading (1947) and The Little French Bride (1948). She continued to paint even when arthritis required her to strap a brush to her wrist.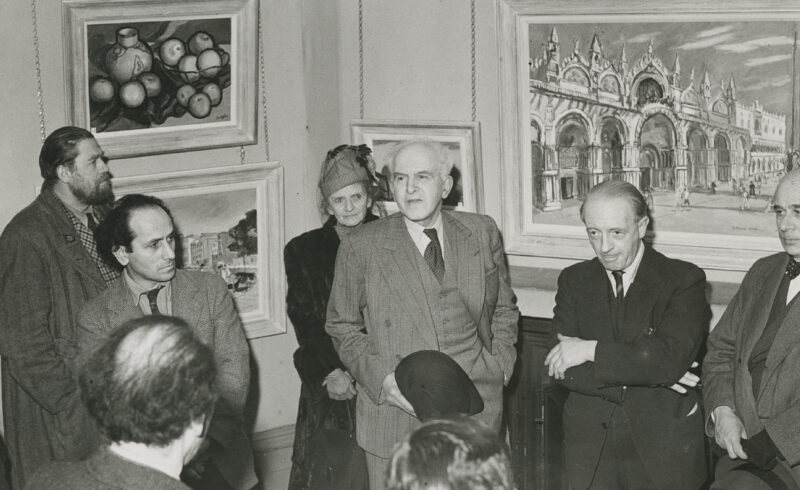 A photograph taken at the Royal Society of British Artists in the late 1940s shows her standing behind her husband while he speaks. Her fragility is evident. She died in January 1950, and soon after, a memorial exhibition was held at the R.B.A. galleries in Suffolk Street. In the foreword, Martin Hardie wrote of the theme she made particularly her own, that of adolescent girlhood, and her many depictions of her model Carmen's fragile beauty. He also referred to her gallantry while she endured illness and constant suffering, though she hid this from all but her closest friends.

Her obituary notice in The Times spoke of her figures at a window or on a balcony, as if they were illustrations to a story as yet unwritten, her pictures showing a sensitive appreciation of the music of space. ​'She seemed to have a special sympathy with and understanding of the phase between girlhood and womanhood.'
An exhibition of her prints, in conjunction with John Copley, was held at Garton & Cooke in 1985 followed by a solo show The Lithographs of Ethel Gabain staged at The Fine Art Society in 2003. The Life and Works of Ethel Gabain by Susan Thomson was published in 2008. The Fine Art Society held two further exhibitions of her prints in 2017.